AZ Residents Get The Short End Of The Stick When It Comes To Golf Rates
I would say that I come from a family of golfers... My grandfather was a great golfer and an excellent instructor, with the patience of a saint. My father and my uncle both grew up golfing, though it is my uncle who was blessed with natural talent when it comes to swinging a club. My brother and I are the next of the men in our family to carry on the tradition of spending family time together by driving around 18 holes, competing over a friendly wager, and laughing about good memories, or good jokes, depending on our games that day...

This summer has been awesome for golfing. We don't mind getting up super early to get the first tee time of the day, which is usually just before 6 am, to catch the cooler morning air and fast pace. Thanks to the ridiculous heat of the summer months in AZ and with the help of Golf Now (a popular app and website for booking tee times) we have been able to enjoy some of the nicest courses around the valley for some low and affordable rates. Anyone who golfs can attest to this, golf is not a cheap sport.

So here is the beef I have with AZ golf courses.... All summer the full time residents of AZ fill the tee times for local courses even during the crazy 110 degree days. Then, as soon as the weather gets nice and the winter visitors come to town, the prices skyrocket to sometimes 4 and 5 times what they are during the summer!!! Even the so-called "executive" courses are 50 bucks for a round! I get that the courses count on the winter visitors paying a premium rate while they are out here, but how about showing your full time AZ residents some love... We are the ones sweating it out, literally, out there all summer because we love the game...
So, my boss at the firehouse always tells me that you cant go complaining unless you come up with a solution, so here it is.. I propose that the golf courses out here come up with some sort of full time resident card, similar to the fish and game with their hunting licenses. It could be something that any course or pro shop would carry, cost a low one time fee of $35, and gets the card holder "resident rates" throughout the winter months. You would have to buy it between the months of May and Aug and prove you are a resident with a utility bill. I think that is a pretty easy fix and I know it would make a lot of golfers out there happy...

If you agree with me, use this link to my facebook page and send me a message, or shoot me an email at eric@treehouserealtyaz.com.. Lets build some steam on this thing!!!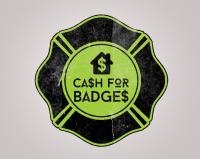 Author:
Vanguard at Treehouse Realty
Phone:
480-241-4570
Dated:
September 8th 2014
Views:
281
About Vanguard: Two local firefighters from the east valley have teamed up to create a program that gives people who...